Posted on
By Jessie
Posted in art, artist, canada, canadian, christy, christy haldane, designer, glass, haldane, hi ho silver, local, ontario, pieces, recycled, rocks, stoney lake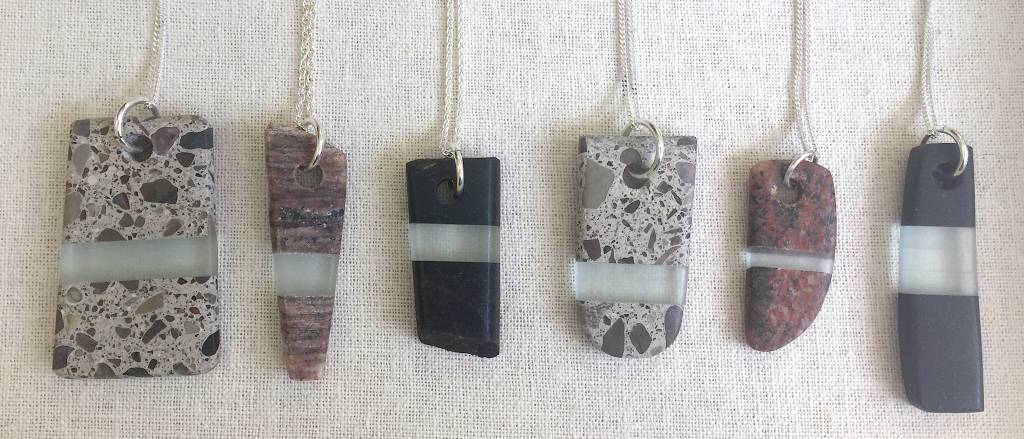 A spotlight on one of our favourite local designers, Christy Haldane.
We love having local designers on display here at Hi Ho Silver, both for supporting local artists and also because of the variety and uniqueness of the pieces.
Christy Haldane is one of our favourite local artists and we are honoured to have her one of a kind pieces in our cases. Christy uses recycled window glass and (among other materials) rocks from Stoney Lake, Ontario, making her pieces a true piece of Canadiana.
Christy doesn't just make jewellery, in fact her first love is sculpture and has designed some beautiful pieces that can be found at her gallery Proximity Fine Art.

From Christy's website:
"Working in series I combine the glass with other common building materials, such as stone,
concrete and steel enhancing the fragility and strength of the glass components. The
sculptures consider humanity's effect on the environment and the precarious balance in
which the natural and artificial environments exist.

"In 2000, I began working with recycled window glass. Through experimentation I discovered
this was a medium that fit my minimalist modern aesthetic. Using a kiln I melt and fuse
window glass creating simple forms, highlighting the qualities of the glass. The qualities differ
depending on the methods I employ while working the glass making each sculpture unique."

Come and check out Christy's pieces today!